Stormshield and Sekoia – a European publisher specialising in predicting cyber threats, a recognised player in CTI (Cyber Threat Intelligence) and XDR (eXtended Detection & Response) – announce a partnership agreement that combines their know-how in cybersecurity to offer a complete and sovereign solution for protecting IT systems against cyberthreats.
Simple and efficient for organisations to implement
This technological partnership enables Stormshield to enhance the IP Reputation engine of its range of Stormshield Network Security firewalls through the use of the malicious IP databases held by Sekoia – a Threat Intelligence specialist approved by France's ANSSI cybersecurity agency. This new approach will help companies and government bodies to fight more effectively against cyberattacks, whether targeted or opportunistic, for purposes of financial gain, espionage or sabotage.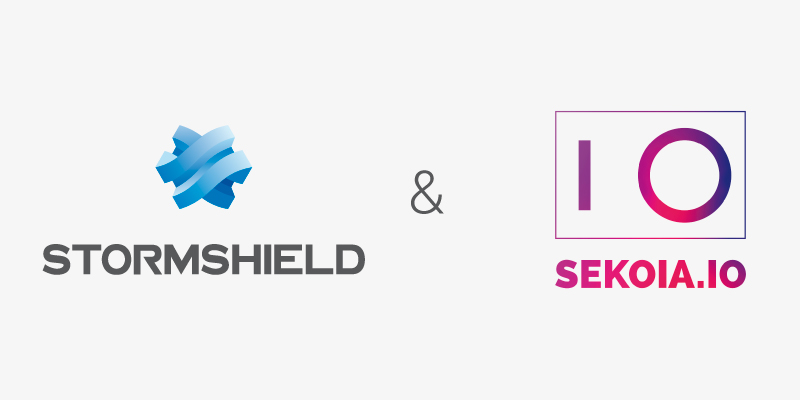 An innovative predictive platform for use by trusted products
The SEKOIA.IO platform is based on prediction through attacker knowledge, natively combined with the automation capabilities of detection and response to attacks. It includes SEKOIA.IO CTI, a cyberthreat intelligence feed produced by analysts and delivered via the platform, or via APIs in the case of technical implementations. This highly structured, context-sensitive and actionable feed enables organisations to control their IT resources for defending themselves against the actual real-life threats that concern them. Stormshield Network Security firewalls are equipped with essential functions such as IPS deep inspection, passive vulnerability discovery and SDWan. They address all protection needs on a network, whether IT or OT. The combination of these two technologies makes it possible to exploit the threat intelligence in close proximity to sensitive and critical corporate infrastructures, thus minimising the impact of a cyberattack.
Freddy Milesi, CEO & co-founder of Sekoia, believes that: "Actively protecting organisations against cyber threats is the ultimate team game. The best teams are the ones who are able to get the best out of each player; and by combining SEKOIA.IO's threat intelligence (CTI) with Stormshield's SNS firewalls, users can enjoy enhanced levels of protection. We are honoured that Stormshield has trusted us to strengthen its network defence solutions."
A partnership in support of a sovereign French and European ecosystem
This partnership is intended to grow and consolidate over the coming months. Stormshield will provide its indicators of compromise (URL, Hash) to Sekoia to enrich its database, and Stormshield will integrate malicious domain names into its URL filtering solution, to give operators more peace of mind in their daily tasks. In addition, the Stormshield and Sekoia teams are working to construct an interactive portal dedicated to managing IoCs, for use by security management teams (SOC/Cert).
Eric Hohbauer, Sales Director and Deputy Managing Director of Stormshield, says: "We are proud and delighted to continue developing our ecosystem with a flagship French player who shares our European values and philosophy of sovereignty. With Sekoia, the fight against cybercrime and economic/geopolitical espionage is our shared DNA. This is the reason why we are joining forces with our solutions, and will continue to build technological bridges between our two product ranges."