Stormshield is launching its new Firewall & UTM appliance, designed specifically for installation in vehicles (land, air, sea) operating in critical environments. The SNxr1200 offers a high level of performance and has an extra-ruggedized form-factor enabling it to meet stringent constraints as part of challenging civil or military situations.
The SNxr1200 firewall fully satisfies the complex security requirements and lives up to the challenges of critical environments. Developed in accordance with a certain number of military standards, it has numerous environmental certifications enabling it to be deployed in critical environments. It can operate in extreme temperatures ranging from -40° to + 55 °C, can withstand high humidity and function at altitudes above 15,000 metres. This means that the SNxr1200 fully meets the needs of the aeronautical, maritime and military sectors. Its moulded and machined frame gives it unparalleled strength in all possible scenarios.
Endowed with high availability functionality, this firewall & UTM appliance guarantees optimum operational reliability. Communications are secure, in particular, thanks to an IPSec VPN, with an inspection and intrusion prevention system (IPS & DPI) and a TPM (Trusted Platform Module) for the protection of secrets. These mechanisms provide in-depth defence against data leaks or cyberattacks.
In addition, the Snrx1200 complies with the ITAR (International Traffic in Arms Regulations) standard regulations. Its management interface also complies with European EN55032 / EN 55035 standards. The SNrx1200 is also certified for all types of aeronautical (DO-160G) and military (MIL-STD-461F / MIL-STD-810G) applications, a guarantee of confidence and quality, as well as safety of operation and use.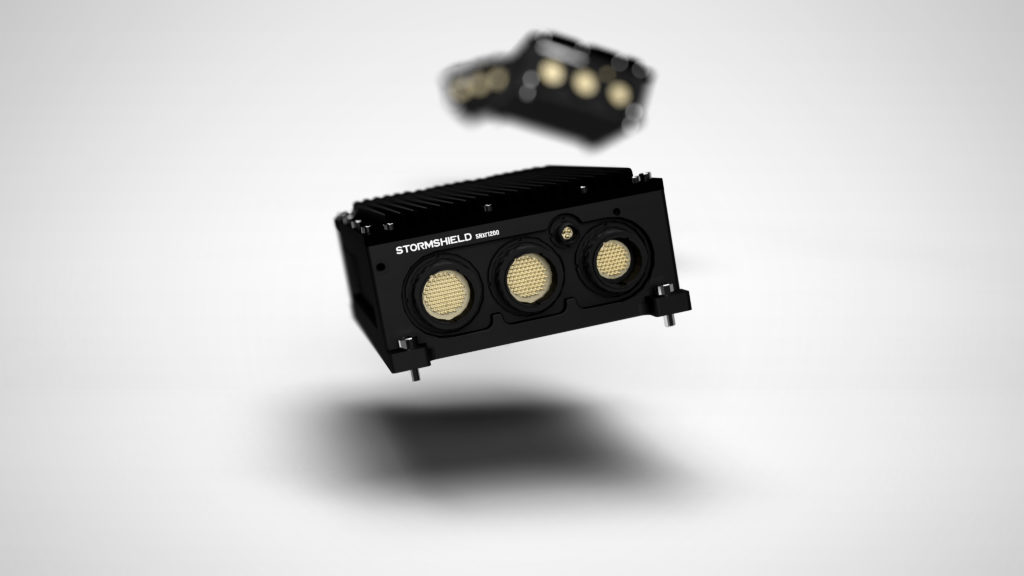 Key features of the SNxr1200
Simplified ITAR-free export
On-board product weighing 2 kg
5 Ethernet interface ports
Firewall throughput (2.4 Gpbs)
IPSec VPN throughput - AES-GCM 600 Mbps